I'm a 20-something Irish guy who left Ireland at 18 to study my degree in International Economics in England. Since graduating in 2006 I have traveled, studied, worked, volunteered and backpacked around 100 countries across the globe… I'm not rich, have no wealthy benefactors and don't sell my body from continent to continent to allow me to live like this! I redesigned my lifestyle and have loved every day since, you can do it too….
My initial plan after graduating in 2006 with my finance degree was to take a year out, teach English in China, 'get travel out of my system' and head back to the UK for a successful lifelong career in finance – well that plan didn't go so well :S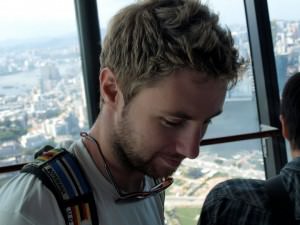 Leaving Ireland behind in 2006 I had no idea what life would hold for me but we never do. I took the plunge, booked my one-way ticket to Asia and haven't looked back since. I've managed to earn a money online through a portfolio travel blogs and now I'm as free as I ever dreamed 

Social conformity, the media, our education systems dictate that we should go to school, go to uni, go to a city, work in an office, save for a retirement then when we're old and frail, retire and enjoy the fruits of our labour. Personally, I don't want to do that. Not one bit. Unless I'm truly passionate about a position, I'd never dream of grinding it out.
Saving for a retirement which may never come, or when it does come were are too frail to truly enjoy it sounds like madness to me! Life is short, too short and I want to enjoy mine every second of every day, so I try my best to do just that. Hopefully I can make a difference along the way…
We can all redesign our lifestyles to live how we went. Traveling opens our minds, teaches us about other cultures, languages, religion, it's a constant learning curve but one that we can enjoy every step of the way.
The more I travel the more I realise that life was not supposed to be spent doing something you don't want to do. We're so lucky to have the opportunities we have and now if I want to dive with Great White Sharks, I can do it; if I want to volunteer with refugees in Burma, I can do it; If I want to skydive over volcanoes in Indonesia, I can do it – and so can you, really (honestly, seriously!)
You don't have to be rich, win the lottery or rob a bank. You can live the life you want to right now, and not wait for the retirement that may never come. Redesign your lifestyle, as I redesign mine and we can enjoy the ride together…
If you need to get in contact with me, feel free to email me on johnny 'at' The Wander Kind 'dot' com
Alternatively:
You can 'like' my facebook page
Follow me on twitter
~ If you hear a voice within you say "you cannot paint," then by all means paint, and that voice will be silenced ~ Vincent Van Gogh
NOTE: if you're still not feeling suitably inspired check out:
- or my post on my lifestyle design
-or my bucket list
those should help get you in the mood!